What kind of device have you been using? A Mac, perhaps? You must enjoy using your macOS. But unfortunately, you find it annoying that there isn't the best free iOS manager, 3uTools for Mac.
Don't worry, a lot of MAC users share your sentiments. Even if you can feel left out, smile since you are presently in the right place. We're going to teach you how to utilize 3uTools on macOS today. But before starting anything, let's get to know this useful app 3uTools on Mac.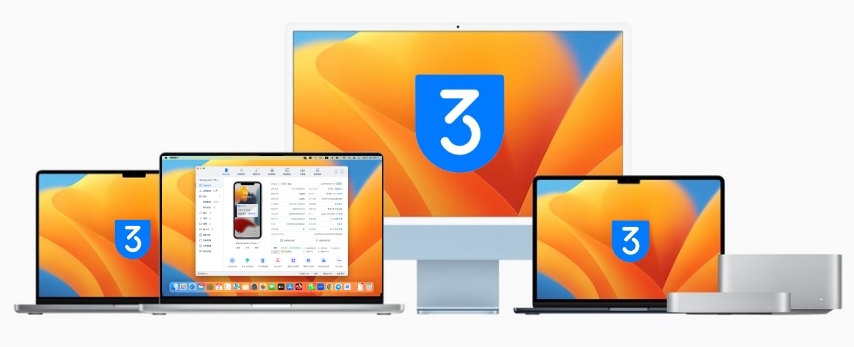 What is 3uTools for Mac?
On your PC or laptop, you can manage your iOS/iPadOS device using the free and complete software application, 3uTools. This is the ideal application for those that own an Apple device, and wish to have complete control over their iPhone/iPad via their desktop or laptop.
With 3uTools on Mac, you can manage all your iOS devices from one hub, and give you access to many exciting benefits that you will not find in any other application. To make things better, it is not complicated to use. In fact, the tool is very simple, easy to use and, the beauty of it all, is that it is completely free.
Download 3uTools for macOS
As you may already know, 3uTools works only on Windows machines, and there is still no official version of 3uTools available that is compatible with mac Operating System.
Even though it is considered the best iOS manager, 3uTools cannot be directly downloaded and installed onto a system that runs on a macOS. 
Like most problems out there, download and install 3uTools for Mac has a solution. So do not be frustrated if you happen to own a macOS device. We are here to help you.
Therefore, there are a primary route you might take while using the 3uTools on any Mac powered by macOS.

How to Use 3uTools on Mac?
Even though 3uTools could be used on Windows Operating System (any latest version), it unfortunately, cannot be used on a Macintosh Operating System. But, the solution is already there. 
So, how to download 3uTools for Mac? The solution is utilizing a virtual machine program to run Windows on a Mac and the use Windows version of 3uTools for macOS users.
You can run Windows on your Mac by installing a Virtual Machine software on Mac. Then, download and install 3uTools for Windows official version on that platform. Now you can use this tool on any Mac as natively without a problem. 
How to install 3uTools on Mac with a Virtual Machine?
To utilize 3uTools in this technique, you must first setup a Windows Virtual Machine on Mac. Let's see the way to download 3uTools for MAC. Steps to follow;
Download and install the latest version of VirtualBox software on your Mac
Download the ISO disk image file of Windows 10 or Windows 11
Open VirtualBox and click "New" icon
Enter the required details and choose the ISO file which you have downloaded on your Mac
Follow the onscreen instructions to install Windows 10/11 on Mac with VirtualBox. When the installation completes, you can run Windows 10/11 top of your existing macOS
Now you are able to install 3uTools on your Mac. Run windows on your Mac, download and install the official latest version of 3uTools for Windows on to your Mac
That's all about installing 3uTools on a Mac computer by a virtual machine. Everybody loves 3uTools and the lack of availability of this useful app makes the users feel left out for sure. Hope you follow this guideline to install 3uTools on a Mac device. Using different platforms is complicated yes, it is true. But the best part is you get to use your favorite app with these methods.
However, if you feel this method to download 3uTools for Mac is not for you, no worries, there is another great solutions, using a alternative app i4Tools for Mac.
Using 3uTools Alternative
Many iOS users consider 3uTools to be a must-have tool, however, there isn't an official macOS version available. Fortunately, there is a substitute software called i4Tools available for Mac as well. This is a replica of 3uTools which packed with all the features.
The only drawback of i4Tools is in Chinese Language. You can utilize Google Translate to use the app in English.
Let's start by downloading the i4tools, the best 3uTools alternative for Mac.
Then, enjoy!