Flashing your iPhone, iPad should be done by using trustful way. iPhone flash tool for free is wonderful   move for everyone. So if you want free tools with trust for flashing your iPhone, there is no other tools than 3utools.
Flash your iPhone with 3utools
We all are familiar with the name 3utools as an ios customizing software by 3utools team. With all other customizing tools is brings you flashing option to install compatible ios firmware to your devices respectively. Interestingly 3utools team offers this nice software for free. Also it updates its firmware list periodically.
Best requirements for flashing
Be sure to use PC/ Laptop with good power supply
Use unbroken iPhone USB Cable.
charged your iPhone battery at least to 50% minimum power
Use latest version of 3utools
Use right firmware for your particular iOS device.
How to flash with 3utools?
In the main window of 3utool you have to select Smart Flash section. Here you can see different modes to flash your i-Device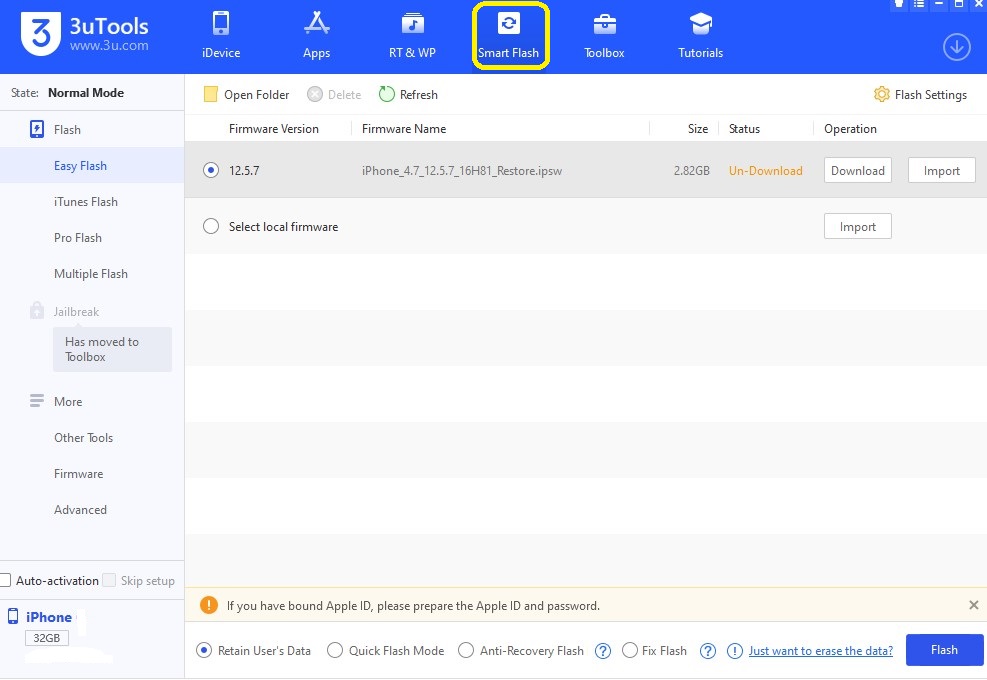 Easy flash
This will give you easy flash mode. So you can install latest firmware with this mode. But if you have bound Apple ID, Please prepare the Apple ID and Password before flashing. Also it has options like
Retain user's data: flashing mode can only help to update iOS system restore or fix iOS system. Installed apps or users data would not be lost or changed.
Quick flash mode: The flash mode is recommended for repairs, sales person and normal players, cause it would allow users to update iOS system erase user data restore factory state or fix iOS system.
Anti-Recovery flash: you can use this mode to destroy iPhone private data before selling. This flashing mode will format your device deeply f each memory unit. So all the process will take longer time may be hours.
Fix flash: this will try to fix 1110 error[Disk full]
iTunes Flash
This mode is fully visualized, and the error can be automatically fixed in the process, or the repair suggestion will be given according to the error code. Also this has three modes as Retain user's data, Quick flash mode, Anti-Recovery flash and you can use them on your preference.
Pro Flash
In this method you can update your device firmware in DFU mode and it will help you to activate DFU mode according to your device. It supports to downgrade iPhone 4 devices. Also it supports reserving baseband, jailbreaking and activating i-device during flashing for i-Device running below iOS 7. As well as it helps you query i-Device's SHSH.
Multiple Flash 
 As its name sounds this method allows you to flash or activate multiple i-Devices at the same time but this does not support deleting firmware. Also this supports renaming port and unbinding port.
What is flashing ios devices?
Basically this means replacing firmware on your device. So this would be helpful to performing various flashing functions on idevices with an iOS or iPadOS processor for the purpose of upgrading or downgrading their software.
Why we need to flash idevices?
To flash your iPhone is easy with 3utools. By doing this you can unlock your Apple device. Resolve brick issue on Apple phones. Also you can back up and recover iPhone data.
3utools for PC Download free
You can download 3utools for all the PC os versions like
3utools for windows 8/ 3utools for windows 10/ 3utoos for windows 11


customize your iPhone for free.
3utools for Android
3utools has been working for ios customizing for years. But still it does not offer any android services for you. So you are unable to root your android device using 3utools.