Hi, my dear friend here, I am going to show you a best offline music app for you iphone,ipad for free by Apple App store. This app is called Tuner Radio Plus. This does support offline music listing for users. Here you can download music files to the device and you can listen to them later without internet connection.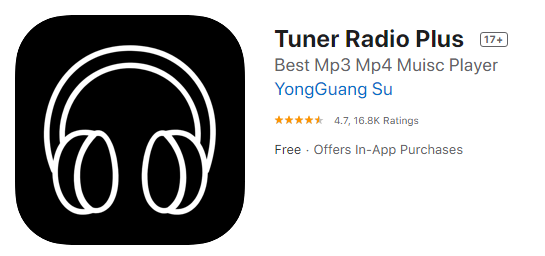 This app is available in the App store so you can have the app free to your iPhone, iPad.  Tuner Radio Plus is the best mp3, mp4 music player. You can find any music genres here include Funk, Gosple, Rock, Sertanje, Reggie. You can find all artists' top track or album too. You can listen to local radio fm stations in your country and you can select radio channels from any other country.
The only requirement is, you should have ios 9 or above version.
Free version pop up advertisements, but you can remove these adds by Purchasing it.
Remove ads by month for $4.99

Remove ads by year for 

$49.99
Advantages of Tuner Radio plus
Millions of MP3,MP4 music store.
You can build your own music library.
Nature sounds are available for mind relaxing.
You can search for all artists' top track or album.
You can search for music genres here.
You can listen Local Fm channels and Wold wide Fm channels.