Hi my dear friends here I am going to show you an interesting tool comes with 3utools for you called Delete Invalid Icon. Actually all you know how to remove icons form your idevice, but here you have to use the tool and it will do it precisely for you.

How to delete icons on ios devices?
Tap and hold on any icon then it will appear small X mark with shaking. Tapping on X you can delete desired icon.
Also you can delete icons from iphone storage. Settings -> General -> iPhone Storage. From there you can delete unwanted apps.
What are invalid icons?
Invalid icon may occur due to corruptions of app installations from App store/iTunes or side loader installations.
You can see them appear one of like this

In some cases you can't delete them directly and you have to use a dedicated tool.
How to delete invalid Icon?
3utools brings you specially prepared tool called Delete Invalid Icon which will help you to remove improper icons in your idevice instantly.
How to use  Delete Invalid Icon tool?
 As usual download and install latest 3utools or update your current version
Connect your idevice via USB cable.
Open Toolbox

Click on Delete Invalid Icon and Delete next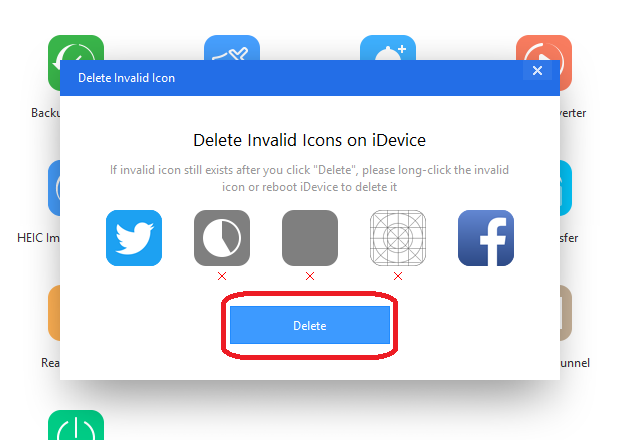 After successfully complete the process you will see the massage bellow and click OK
.