Firmware
Firmware is a IPSW [ipod software] that contain all the things that need to run the core operating system. Usually it covers the areas like
When the phone turns on, the code in the Boot ROM runs, it activates the hardware (the phone and the baseband), and then proceeds to start the software (iOS).

Having knowledge about your i-Devices' firmware is better for well usage of your device. Simply firmware is essentially the programming needed for certain devices to perform their designed tasks. As it is being updated the firmware is very helpful for smooth running of the device which confirms the device operates the way it should and identified bugs are fixed and programs are altered for user gain. Lets see Download Firmware iPhone iPad.
How to check your device Firmware?
For iDevice users you can check your firmware by the general way as bellow:
Go to setting—-> General—-> About—-> version
But using 3utools all those things will be on your wide window. Only you have to open  iDevice section of 3utools after connecting the iPhone, iPad, iPod  respectively to your PC.
How to use 3utools?
What are the Firmware offered by 3utools to Download iPhone iPad?
There are many Firmwares available for varying with iDevice category and iDevice Name respectively. So you can select the firmware you want precisely using the 3utools as follows.
Open 3utools
Click on Toolbox

 Then click on Firmware icon as bellow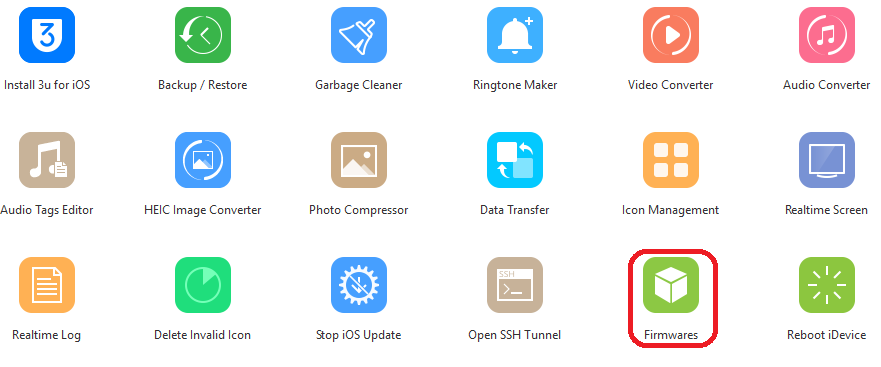 Now select the device category  you want by using the drop down list provided.

Select your iDevice by using the drop down list provided.

Now you can see the window with compatible firmware for you iDevice.
You can easily download them by simply clicking on the small green download button at the download column.
Download AppValley
Download TutuApp